Playwright • Memoirist • Essayist • Educator
Performer • Acoustic Punk Raconteur • Spoken Word Poet
NEWS & EVENTS
Thrilled to be featured in The New York Times' "Sunday Routine" on June 12, 2022.
May 2023
AAPI Asian Heritage Month 



Virtual & In-Person Events & News:
January 2023 News & Events:
OUR LAUNDRY, OUR TOWN
•  •  •
OUR LAUNDRY, OUR TOWN
October/ November 2022  Events
Plus OCT 14 NYC Interdisciplinary Event & Panel Discussion: 25 Years After the Hong Kong Handover:
– NYC Chinese American Artists Respond, in Images, Words and Music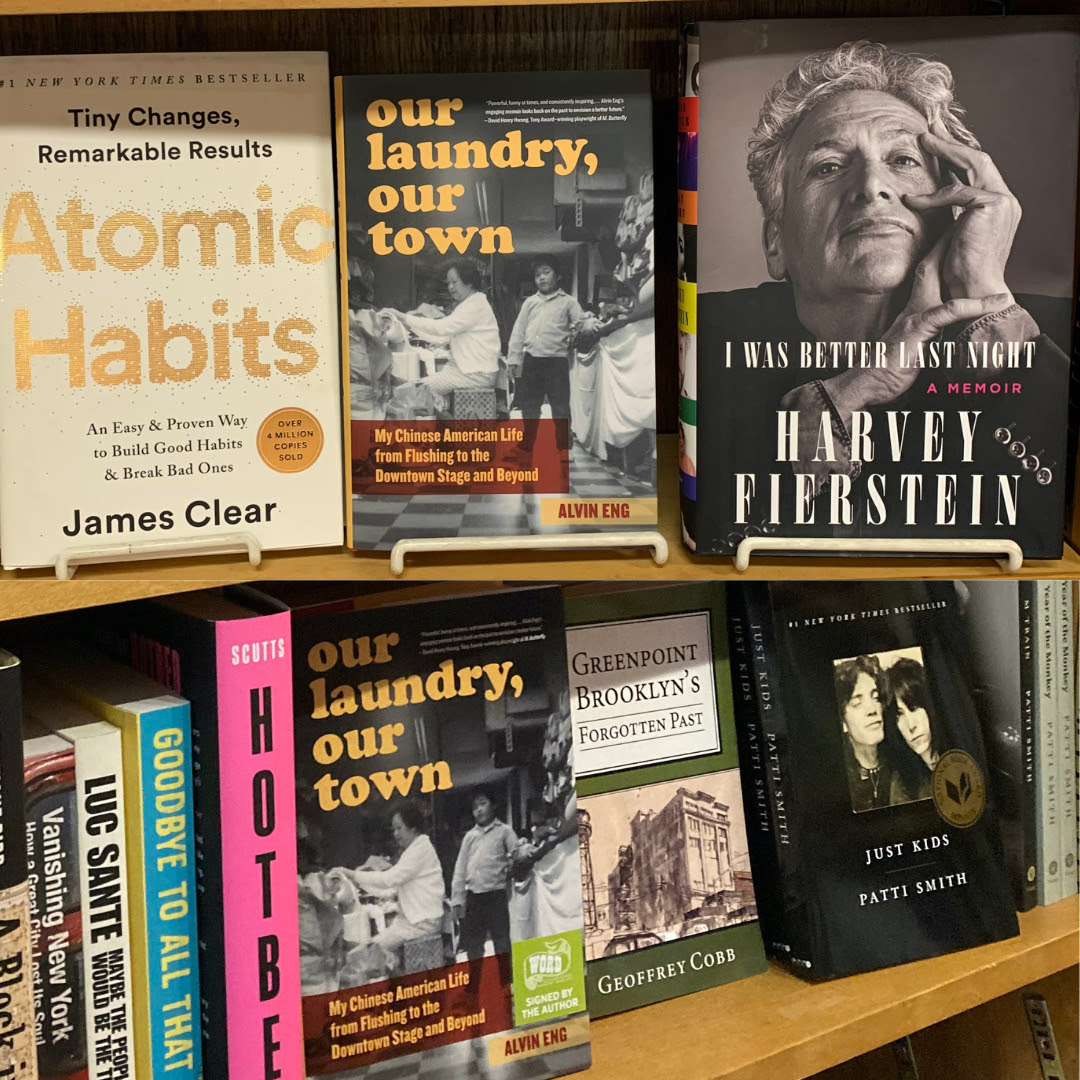 UPCOMING EVENTS
Wednesday. OCT 12 ,  from 6:30- 7:30pm
NYPL In-Person & Virtual Conversation & Reading
Chatham Square branch, 33 East Broadway, Chinatown, NYC

Info & RSVP for In-Person Event
Virtual Event Registration  (Please click on "Register Now") 
Friday, OCT 14 from 7-9pm  
Church Street School for Music & Art, 41 White Street, Tribeca, NYC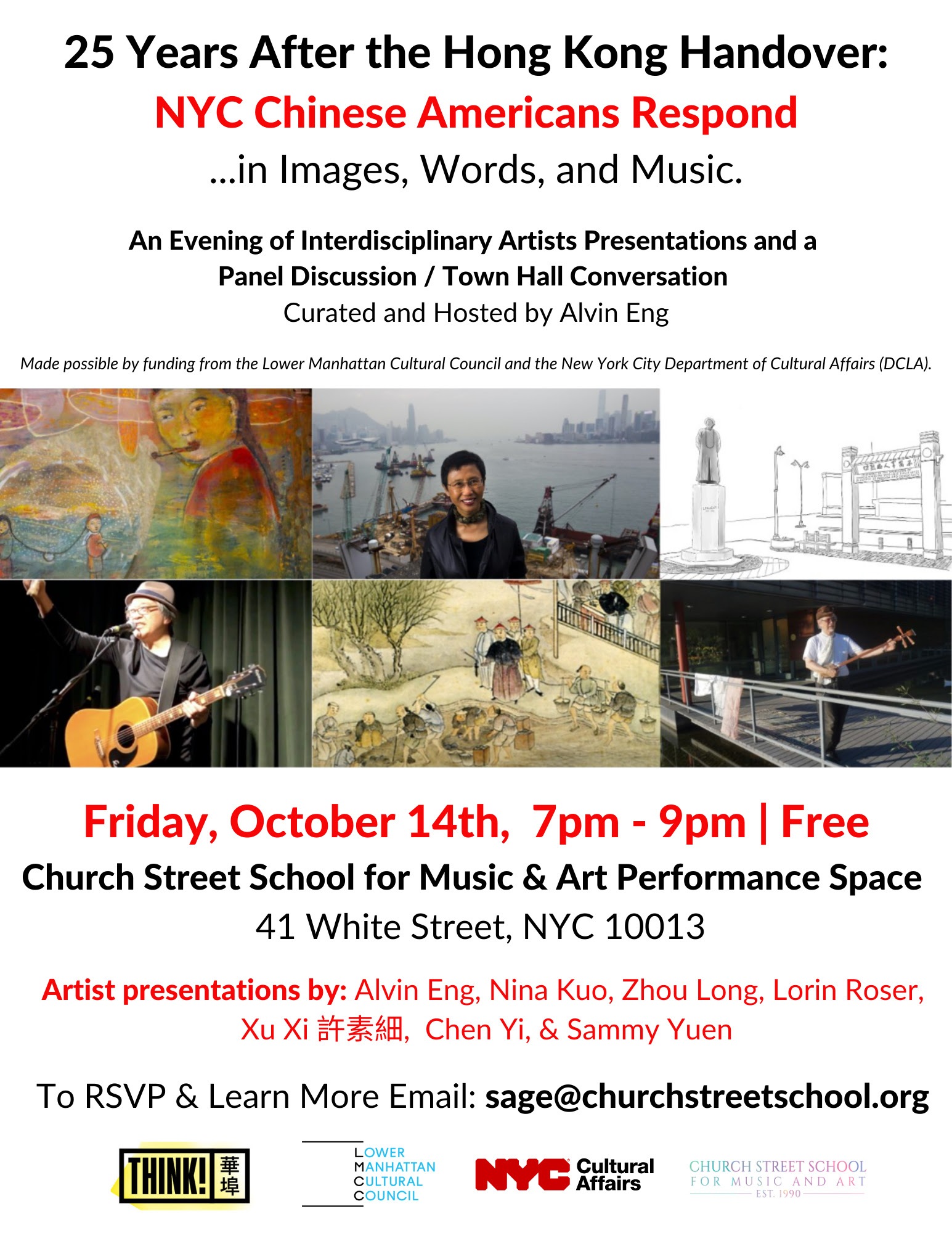 Tuesday. OCT 25 from 3:30 – 4:30pm 
"Hometown Author Talk"
Flushing Main Street branch, 41-17 Main St, Flushing, NY 


No registration required.  More Info
Saturday, NOV 12 @ 7pm 
65 Partition Street, Saugerties, New York (845) 246-5775 

Co-sponsored by 
For nearly a century, two generations of the Jewish immigrant Reher family ran a bakery from the storefront of 101 Broadway in Kingston, New York, and lived upstairs.  Kingston residents of the surrounding Rondout neighborhood, mostly working class and immigrant, came to Reher's for bread, canned goods, and gossip. Today, the site is reborn as a museum and cultural center that preserves and honors the legacy of Reher's Bakery and amplifies immigrant stories of the Hudson Valley, past and present. The Reher Center's mission is to foster belonging by engaging all people through culture, community, work, and bread. 
Monday, NOV 14  @ 5:30pm
 "Local Author Showcase" Meet and Greet 
 Rough Draft Books 
82 John Street | Kingston, NY  845-802-0027
Saturday, NOV 19 @ 8pm
Reading and performance with Judith Sloan & Friends
People's Voice Cafe (in Judson Memorial Church),  239 Thompson St., Greenwich Village, NYC

Ticket Info: People's Voice Cafe
Saturday, DEC 3 @ 2pm  
To be Re-Scheduled for May Asian Heritage Month Celebration 
NYPL Immigrant Heritage Festival / Asian Heritage Month
Hudson Park NYPL, 66 Leroy Street, West Village, NYC 
Performing a revised version of my acoustic punk raconteur work,
Here  Comes Johnny Yen Again (or How I Kicked Punk).
More info soon!
To order the books:
   
 
Update: OUR LAUNDRY, OUR TOWN
September/Fall 2022 Events
CUNY-TV Asian American Life Interview
NPR/WNYC Brian Lehrer Show Interview audio
Three Trees staged reading, Monterey, CA 9/18/22 
Update: OUR LAUNDRY, OUR TOWN
Upcoming June Book Events
Recent Broadcasts/Podcasts and Published Interviews
Less than a month after its May 17, 2022 publication date, my memoir, 
Our Laundry, Our Town: My Chinese American Life from Flushing to the Downtown Stage and Beyond (
Fordham University Press/Empire State Editions) is receiving very positive responses––online, in the media and word of mouth.
Here are some upcoming in-person (NYC) and virtual events, along with recent Broadcast/Podcasts and Published Author Interviews.
In the fall, it would be great to arrange book events throughout the country…please let me know if you would be interested in hosting an event!
Grateful for your support of the book. Happy Almost Summer!
UPCOMING EVENTS
Wed. JUNE 8, from 5-7pm
In-Person Book Signing, Meet & Greet
Yu & Me Books, 44 Mulberry Street, Chinatown, NYC
––the only Asian American woman-owned indie bookstore in NYC!!!
Sunday, JUNE 12, from 3-4:30 pm
In-Person Book Reading
with Musical Guest, Skyler Chin (my cousin!)
21 Pell St. Community Center, Chinatown, NYC
Sat., JUNE 25, from 2-3PM
Virtual and In-Person NYPL Author Talk

 Hudson Park Branch 
66 Leroy Street, West Village, NYC 
Recent Broadcasts/Podcasts
A page listing all coverage will soon be live on this website
LITERARY THURSDAYS with QUEENS PUBLIC LIBRARY – aired on June 2, 2022
(Audio to be posted on QPL website and my own website)
ALL OF IT with ALISON STEWART ON NPR/WNYC – aired on May 31, 2022
(Audio to be posted on WNYC website and my own website)
AUTHOR TALK with KEW & WILLOW BOOKS – aired on May 26, 2022
VIRTUAL MEMORIES PODCAST with Gil Roth, posted on May 24, 2022 (my birthday, thanks, Gil!)
BOOK LAUNCH FRIDAY NIGHT LECTURE with CUNY/AAARI– posted on May 20, 2022
NEW BOOKS NETWORK podcast with Deirdre Tyler – posted May 16, 2022
OPEN BXRX FRIDAY with RHINA VALENTIN Bronx TV Net – 8-minute segment aired on May 12, 2022
LEONARD LOPATE AT LARGE  WBAI/Pacifica Radio NYC – aired on May 11, 2022
LIVE AT TEN with CHERYL WILLS – NY1 – aired on May 9, 2022
Recently Published Interviews
A page listing all coverage will soon be live on this website
OUR LAUNDRY, OUR TOWN News
May 20, 2022 Two-Part Book Launch
Media & Press Coverage • May-June Events
"If you wept while reading the memoir Crying in H Mart, ached at the injustice in Minor Feelings, and laughed during graphic novel Messy Roots, then Our Laundry, Our Town is the sweet spot between these three."
NY1 Live at Ten interview with Cheryl Wills, May 9, 2022
Interview Video
UPCOMING EVENTS
MAY 19 – POETRY IN NEW YORK
Book Club Bar, 197 East 3rd St., East Village – 8pm

Doing a 20-minute spoken word set, including some a cappella acoustic punk raconteur  "Johnny Yen" songs" and memoir excerpts, on an amazing bill with Mel Chanté and host/curator Galinsky.
MAY 25, AARP Houston Virtual Talk
4pm-5pm (Central Time)
Asian-American Family Secrets: Hidden in Plain Sight

Virtual reading and talk with genealogist and
MAY 26 – Virtual Reading & Talk 7-8pm
KEW & WILLOW BOOKS
Fantastic Female-owned Independent Bookstore in Queens!!!
Virtual Reading & Book Talk with AMY CHIN,
Genealogist and Think!Chinatown Board President

NPR/WNYC radio wnyc.org
JUNE 2, Virtual Reading & Talk, 4-5pm
Queens Public Library Literary Thursdays
Our Laundry, Our Town With Author Alvin Eng
Presented by Cambria Heights branch
EVENT REGISTRATION
Wed. JUNE 8, Book Signing, Meet & Greet, 5-7pm

Yu & Me Books, 44 Mulberry St., Chinatown, Manhattan
Only Asian American female-owned indie bookstore in NYC!
Sat., JUNE 25, NYPL Author Talk, 2-3PM
• 
PLEASE SAVE THE DATE
Friday, MAY 20, 2022
Two-Part BOOK LAUNCH!
Virtual & In-Person/NYC
OUR LAUNDRY, OUR TOWN 
My Chinese American Life from Flushing to the Downtown Stage and Beyond
A memoir by Alvin Eng
Part I (May 20)
Virtual Book Launch
Reading & Talk 5:30pm–7pm (ET)
AAARI/CUNY's online Friday Lecture Series

Part II (May 20)
In-Person Book Launch / 7pm – 9pm (ET)
CITY LORE Gallery,  56 East 1st Street, 
East Village, NYC

"Alvin Eng's masterful, sweeping memoir about growing up with his five siblings in a dysfunctional family in the back of  the Foo J. Chin Chinese Hand Laundry in Flushing, Queens is laced with his marvelous humor, family anecdotes and metaphors that bring a century of the Chinese American Experience to life. I was deeply touched, especially by the spirits parallels between the folks in Thornton Wilder's Our Town and the laundry­­ and the beautiful idea that his parents didn't really see each other either––like the characters in the play. Just a beautiful book."
STEVE ZEITLIN author Poetry of Everyday Life, Founding Director of City Lore 
Hope you can join us online or in-person to celebrate the publication!
More details soon!  
OUR LAUNDRY, OUR TOWN
My Chinese American Life from Flushing to the Downtown Stage and Beyond
Publication date: May 17, 2022
Available for Pre-Order now:
Fordham University Press 
Bookshop (please select a favorite indie bookstore!
Our Laundry, Our Town
Presents
THREE TREES
A Dramatic Portrait of Alberto Giacometti and Isaku Yanaihara
Published by No Passport Press
Excited to share that my play, THREE TREES, has been published as a print-on-demand book by Caridad Svich's No Passport Press. The book includes an amazing Foreword from Hana Sharif and a beautiful cover design by Zonia Tsang.
Thank you, Caridad, for creating this outstanding platform for playwrights and for your invaluable support of them. The book is available for $8 from Lulu and Amazon. A brief description of the play follows, along with links to order the book.

THREE TREES explores the haunting relationship between Parisian sculptor Alberto Giacometti and his primary muse/model of the 1950s, Japanese philosopher, Isaku Yanaihara. It is the first of my Portrait Plays series of historical dramas about artists.
To order the book:
2021 CHINATOWN ARTS WEEK
Performances & Reading
Sat. Oct 16 at app. 3:45pm and 5:10pm
Here Comes Johnny Yen Again (or How I Kicked Punk)
10-minute excerpts from solo acoustic punk raconteur work
Outside 21 Pell Street, NYC
Sat. OCT 23, btw. 5:30 – 7pm
Reading of "It's Only a Paper Son" from Our Laundry, Our Town,
a memoir to be published by Fordham University Press in May 2022.
Inside 21 Pell Street, NYC
Both events are Free
HISTORY, NOT NOSTALGIA,
CROSSROADS, 2021: For JAMES BALDWIN

Essay, Spoken Word Video and Playlist for
National Sawdust's Fire This Time Project
Excited to share HISTORY, NOT NOSTALGIA: CROSSROADS 2021, for JAMES BALDWIN, an essay, spoken word video, and Baldwin-inspired playlist––all created at the invitation of the Brooklyn-based music/arts venue, National Sawdust, for their website. The five-minute video was shot on location at City Hall Park, NYC. The current Public Art Fund installation of sculptures by Melvin Edwards seemed the ideal visual counterpoint to contemplate the impact of the great James Baldwin's words on this unique moment in American and world history.
Click for National Sawdust page
Click for Video only


This project was created in conjunction with National Sawdust's salon project, Fire This Time, hosted by poet Lynne Procope. You can also checkout these amazing salon sessions on their website.
a spoken word offering for George Floyd
––posted on the eve of sentencing of his murderer,
the former Minneapolis cop.
From the 04.17.21 "Playwrights Keeping Vigil" virtual reading produced by the Reset Theatre Coalition: Braata Productions, Conch Shell Productions and Kumu Kahua Theatre.
Video link: https://youtu.be/V67gY9MyHLk
The reading was a book launch for their anthology, "We're Not Neutral: Reset Series 2020 Collected Short Plays." Shout out to Antonyio Artis and Tanya E. Taylor, performer and director of the first version of this piece. That clip is also on my YouTube channel.
Book link: https://www.amazon.com/Were-Not-Neutral…/dp/B092P9NWWG
2020 NYSCA/NYFA Artist Fellowship: Nonfiction Literature!
CHI CAN'T BREATHE (Reset! Video)
Now available on YouTube channel
CHI CAN'T BREATHE (Reset! Video)
Now available on YouTube channe
HERE COMES JOHNNY YEN AGAIN news:

SPECIAL GUEST PERFORMANCE
Friday, 9/25, from 8-9pm EST
Tell Me a Story, Annie: A City Lore Virtual Salon
With Annie Lanzillotto & Alvin Eng

GUEST SPEAKER- CENTER FOR ETHNIC STUDIES
BMCC / City University of New York
Tue., October 6 – Asian American Literature course
Hope everyone is staying safe and resilient during this time like no other. Just wanted to share some news regarding my new acoustic punk raconteur solo work-in-progress, HERE COMES JOHNNY YEN AGAIN (or How I Kicked Punk). Of course, the re-scheduled Dixon Place Workshop Residency performance has been cancelled.
But this Friday, September 25, from 8-9pm (EST), I am excited to be performing part of the show as a Special Guest in a City Lore Virtual Salon hosted by Annie Lanzillotto. The salon will include performances from Annie and myself, followed by a discussion on Asian American/Immigrant disenfranchisement––from the Chinese Exclusion Act to the spike of anti-Asian violence and immoral ICE raids during the Pandemic.
Joining the conversation will be actor/activist Ariel Estrada from Racism is a Virus and City Lore board member and Think! Chinatown president, Amy Chin.
RSVP to the FREE event: tellmeastoryannie.eventbrite.com
Click here for Facebook Event/Facebook Live page
Then on October 6, I am honored to discuss HERE COMES JOHNNY YEN AGAIN as a Guest Speaker in my colleague, Dr. Linta Varghese's, Asian American Literature course in BMCC/CUNY's Center for Ethnic Studies.
If you cannot join us on Friday, the piece will eventually be archived on my YouTube channel. As it looks like we will be sharing work on the streaming screen and not the stage for the foreseeable future, hope you will also consider subscribing to my YouTube channel.
New Video:
The Last Emperor of Flushing at 70 Mulberry St.

Restore Chen Dance Center & the Arts to 70 Mulberry St.
Now you can tear a building down, but you can't erase a memory…"
From "Open Letter (To a Landlord)" by Living Colour & Tracie Morris
HERE COMES JOHNNY YEN AGAIN
…on Video from Dixon Place, NYC
Photo by Wrolf Courtney
Hope this finds everyone staying safe and engaged in all that moves you.
A quick update on the Dixon Place Workshop Residency of HERE COMES JOHNNY YEN AGAIN––an acoustic punk rock raconteur work written and performed by Alvin Eng and directed by Wendy Wasdahl.

Tonight (April 18) would have been the third and final performance. Of course, this has been cancelled (but rescheduled for Saturday, October 24, 2020!). To have the show go on tonight, and keep running in a different way, we are excited to share on YouTube, a two-camera video from the March 7th performance at Dixon Place. The video will be available indefinitely.
Please click here for HERE COMES JOHNNY YEN AGAIN…on Video!
This 25-minute video is from the second of three workshop performances. We were joined by Special Guests, Rick Ebihara and Perry Yung from the Slant Performance Group, for a "Tai Chi Music-Meditation Tribute to Lou Reed"…with Wendy also appearing!
The video was directed, filmed and edited by Wrolf Courtney with second camera by John Quincy Lee.
As this is a work-in-progress, we welcome any feedback, comments or questions.
Finally, we greatly appreciate everyone who worked on this video and performance––as well as everyone who joined us onstage and off in February and March at Dixon Place. Hope to see you again on October 24!
Until we can reconvene, take good care,
Alvin & Wendy
DIXON PLACE Presents 2020 Workshop Residency
HERE COMES JOHNNY YEN AGAIN (or How I Kicked Punk)
Dixon Place Presents a Three-Performance Workshop Residency a new solo work Written and Performed by Alvin Eng
Direction and Dramaturgy by Wendy Wasdahl
A solo acoustic punk rock raconteur work, Alvin Eng's 'HERE COMES JOHNNY YEN AGAIN (or How I Kicked Punk)' explores the impact of opium on the Chinese Diaspora as well as NYC's punk/counterculture through the dual prisms of William S. Burroughs' character, "Johnny Yen"––immortalized in Iggy Pop and David Bowie's "Lust For Life"––and Eng's own Grandfather's opium overdose on the streets of NYC's Chinatown.
(Card design by Ivy Arce, photo by Jim Goodin)
Acoustic Punk Rock Raconteur Saturday Nights @ 7:30pm -Free Admisssion
February 8, March 7, April 18, 2020
The Lounge at Dixon Place, 161-A Chrystie Street, New York City
(btw. Rivington & Delancey Streets) / 212.219.0736 / dixonplace.org
Fall 2019 Events follow… (full new website soon!)
THREE TREES A Staged Reading and Workshop
OCTOBER 7, OTTERBEIN UNIVERSITY, Westerville, Ohio
Otterbein University Department of Theatre & Dance will present a staged reading and host workshops around THREE TREES, a play that explores the complex relationship between philosopher Isaku Yanaihara and sculptor Alberto Giacometti. THREE TREES is the first work of Alvin Eng's Portrait Plays, a cycle of historical dramas that examines the parallels between portraiture, history and power as manifested in the convergence of different disciplines, eras and cultures. This play was presented Off-Broadway with the Pan Asian Repertory Theatre in NYC, as well as in staged readings with Baltimore Center Stage and The Moving Parts Theatre in Paris. https://www.otterbein.edu/theatre-performances/
THE MOURNING AFTER: A Play Reading and Discussion
City University of New York, Borough of Manhattan Community College
Tuesday, September 10, 7-8:30pm
On the Eve of the 18th Anniversary of 9/11, the BMCC Theatre Department presents The Mourning After, a one-act play written and directed by Professor Alvin Eng featuring Dominick Allen and Simone Zalusky. After the play reading, there will be a discussion and open mic: 9/11 themed poems and reflections of 2–3 minutes in length are welcomed!
The Mourning After was written on 9/11/03 aboard the A train as part of the "A Train Plays" 24-hour play festival. The play explores the then two-year aftermath of 9/11 through the prisms of class and perception as two strangers meet aboard a Queens-bound A-train. How far have we come as a country since then? Where do we need to go from here? RSVP to Facebook Event Page
Coming Soon:
THE LAST EMPEROR of FLUSHING: Our Laundry, Our Town, a memoir travelogue through Chinese America. The story begins growing up in a 1970s Chinese Hand Laundry in what was then one of the few immigrant Asian families in Flushing, Queens, to performing his one-man show, "The Last Emperor of Flushing," in English in a former People's Hall of the Cultural Revolution in his family's ancestral Guangdong province.