Playwright • Educator • Acoustic Punk Raconteur
NEWS & EVENTS
THREE TREES
A Dramatic Portrait of Alberto Giacometti and Isaku Yanaihara
Published by No Passport Press
Excited to share that my play, THREE TREES, has been published as a print-on-demand book by Caridad Svich's No Passport Press. The book includes an amazing Foreword from Hana Sharif and a beautiful cover design by Zonia Tsang.
Thank you, Caridad, for creating this outstanding platform for playwrights and for your invaluable support of them. The book is available for $8 from Lulu and Amazon.  A brief description of the play follows, along with links to order the book.

THREE TREES explores the haunting relationship between Parisian sculptor Alberto Giacometti and his primary muse/model of the 1950s, Japanese philosopher, Isaku Yanaihara. It is the first of my Portrait Plays series of historical dramas about artists.
To order the book:
2021 CHINATOWN ARTS WEEK
Performances & Reading
Sat. Oct 16 at app. 3:45pm and 5:10pm
Here Comes Johnny Yen Again (or How I Kicked Punk)
10-minute excerpts from solo acoustic punk raconteur work
Outside 21 Pell Street, NYC
Sat. OCT 23, btw. 5:30 – 7pm
Reading of "It's Only a Paper Son" from Our Laundry, Our Town,
a memoir to be published by Fordham University Press in May 2022.
Inside 21 Pell Street, NYC
Both events are Free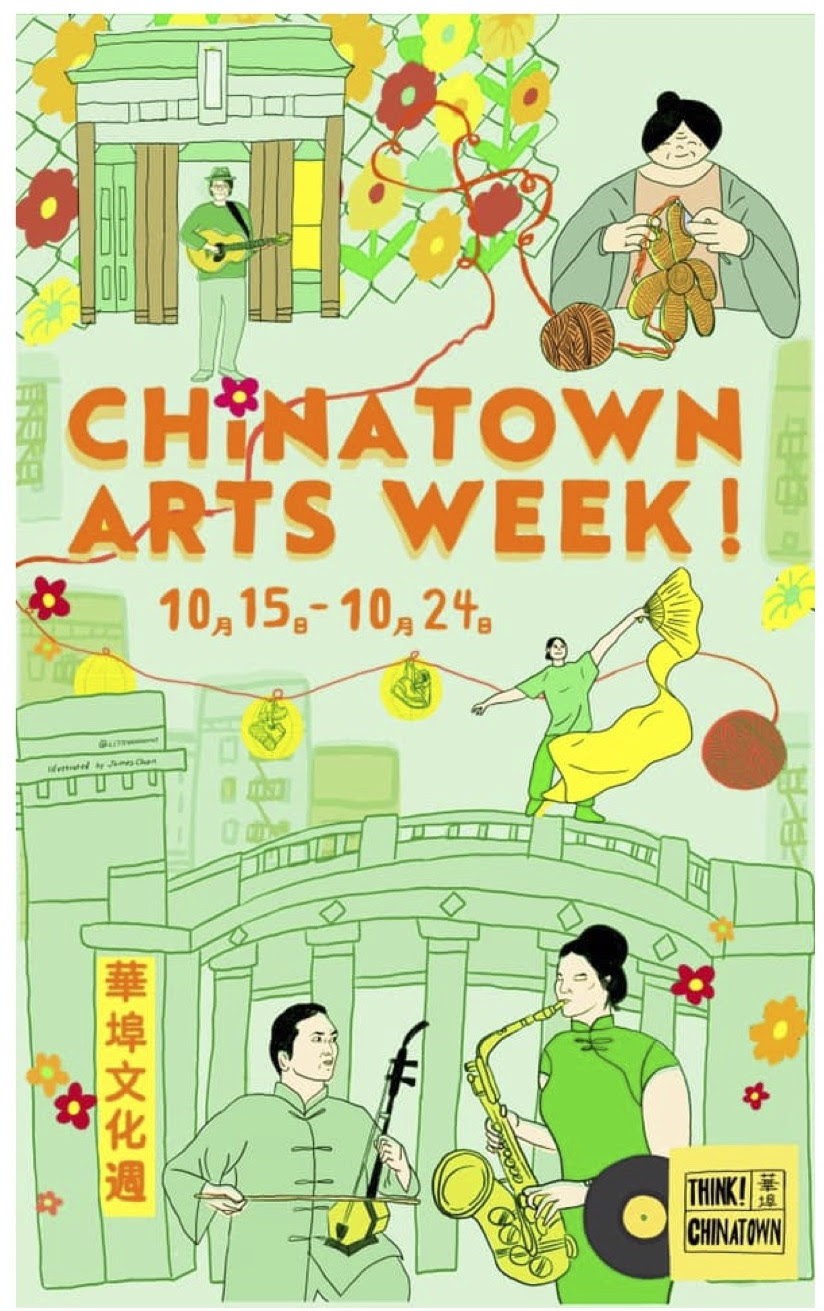 The OCT 16 "Chinatown Door Jams" is a full afternoon of performances on the pedestrian street in front of the historic First Chinese Baptist Church at 21 Pell St. My former Emperor's Club bandmate, Geoff Lee, will join
me
for "Chinatown Beat," a song I wrote inspired by Henry Chang's novel of the same name. Link for
complete line-up.
Inside 21 Pell St on Sat OCT 23, between 5:30-7pm is
"Story Night."
Alongside the premiere of five new short films from
Think! Chinatown's
storytelling project, I will be reading "It's Only a Paper Son" from
Our Laundry, Our Town: Portraits of a NYC Chinese American Life-in-Progress.
I am honored to be performing for the second time in Chinatown Arts Week. Please check out the entire schedule and come on down to Chinatown!!!
…and that's a cartoon
me
in the upper left corner of the poster!
HISTORY, NOT NOSTALGIA,
CROSSROADS, 2021: For JAMES BALDWIN

Essay, Spoken Word Video and Playlist for
National Sawdust's Fire This Time Project
Excited to share HISTORY, NOT NOSTALGIA: CROSSROADS 2021, for JAMES BALDWIN, an essay, spoken word video, and Baldwin-inspired playlist––all created at the invitation of the Brooklyn-based music/arts venue, National Sawdust, for their website. The five-minute video was shot on location at City Hall Park, NYC. The current Public Art Fund installation of sculptures by Melvin Edwards seemed the ideal visual counterpoint to contemplate the impact of the great James Baldwin's words on this unique moment in American and world history.
Click for National Sawdust page
Click for Video only


This project was created in conjunction with National Sawdust's salon project, Fire This Time, hosted by poet Lynne Procope. You can also checkout these amazing salon sessions on their website.
a spoken word offering for George Floyd
––posted on the eve of sentencing of his murderer,
the former Minneapolis cop.
From the 04.17.21 "Playwrights Keeping Vigil" virtual reading produced by the Reset Theatre Coalition: Braata Productions, Conch Shell Productions and Kumu Kahua Theatre.
Video link: https://youtu.be/V67gY9MyHLk
The reading was a book launch for their anthology, "We're Not Neutral: Reset Series 2020 Collected Short Plays." Shout out to Antonyio Artis and Tanya E. Taylor, performer and director of the first version of this piece. That clip is also on my YouTube channel.
Book link: https://www.amazon.com/Were-Not-Neutral…/dp/B092P9NWWG
24

Hour

Plays

Benefit:
Asian Americans Advancing Justice

Publishing News
24 Hour Plays Benefit: Asian Americans Advancing Justice
As anti-Asian hate crimes continue to grow in frequency and vitriol citywide and nationwide, I am proud to have written "A Seat at the Table," for The 24 Hour Plays' benefit for Asian Americans Advancing Justice-AAJC. After a 24–hour writing, rehearsal period (May 17-18, 2021), here's a link to Pun Bandhu's fantastic performance of this 6-minute monologue.

Please consider making a donation to the The 24 Hour Plays' campaign to support AAJC's mission to advance the civil and human rights for Asian Americans and to build and promote a fair and equitable society for all by donating today: https://www.giveinmay.org/story/24aajc

Also check out all of the work of the many wonderful AAPI theatre artists in this project. Thank you to all at 24 Hour Plays, and especially the guest curators, Victor Malanga Maog and Sung Rno. #StopAsianHate



Publishing News!
Thrilled to announce that No Passport Press will be publishing the first two of my Portrait Plays cycle of historical dramas about artists, THREE TREES and 33 & 1/3 CORNELIA STREET. 2021 publication dates to be announced soon!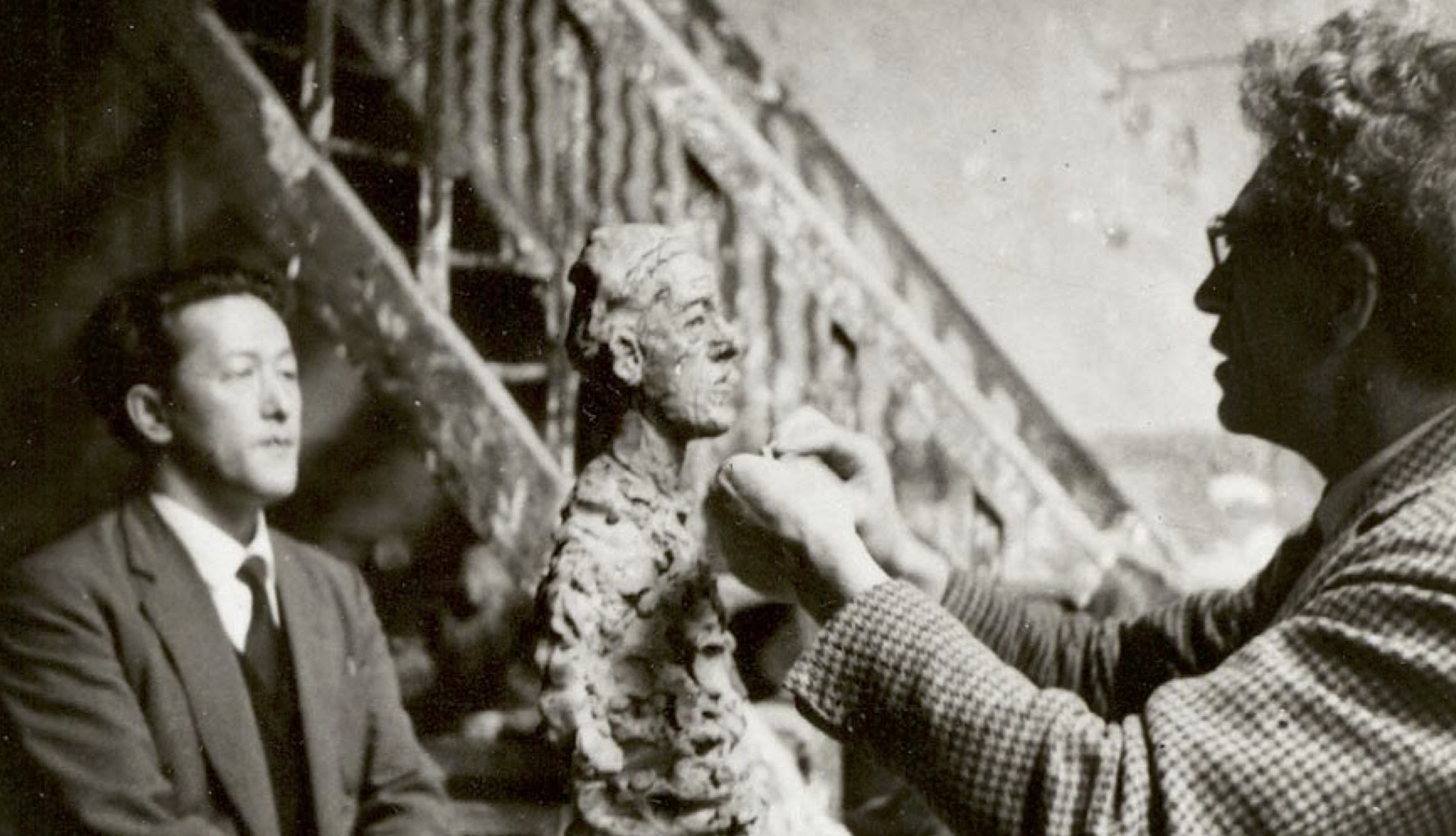 THREE TREES, the first Portrait Play, explores the haunting relationship between Alberto Giacometti, one of the most influential artists of the 20th century, and his primary 1950s muse/model, Japanese philosopher & professor Isaku Yanaihara.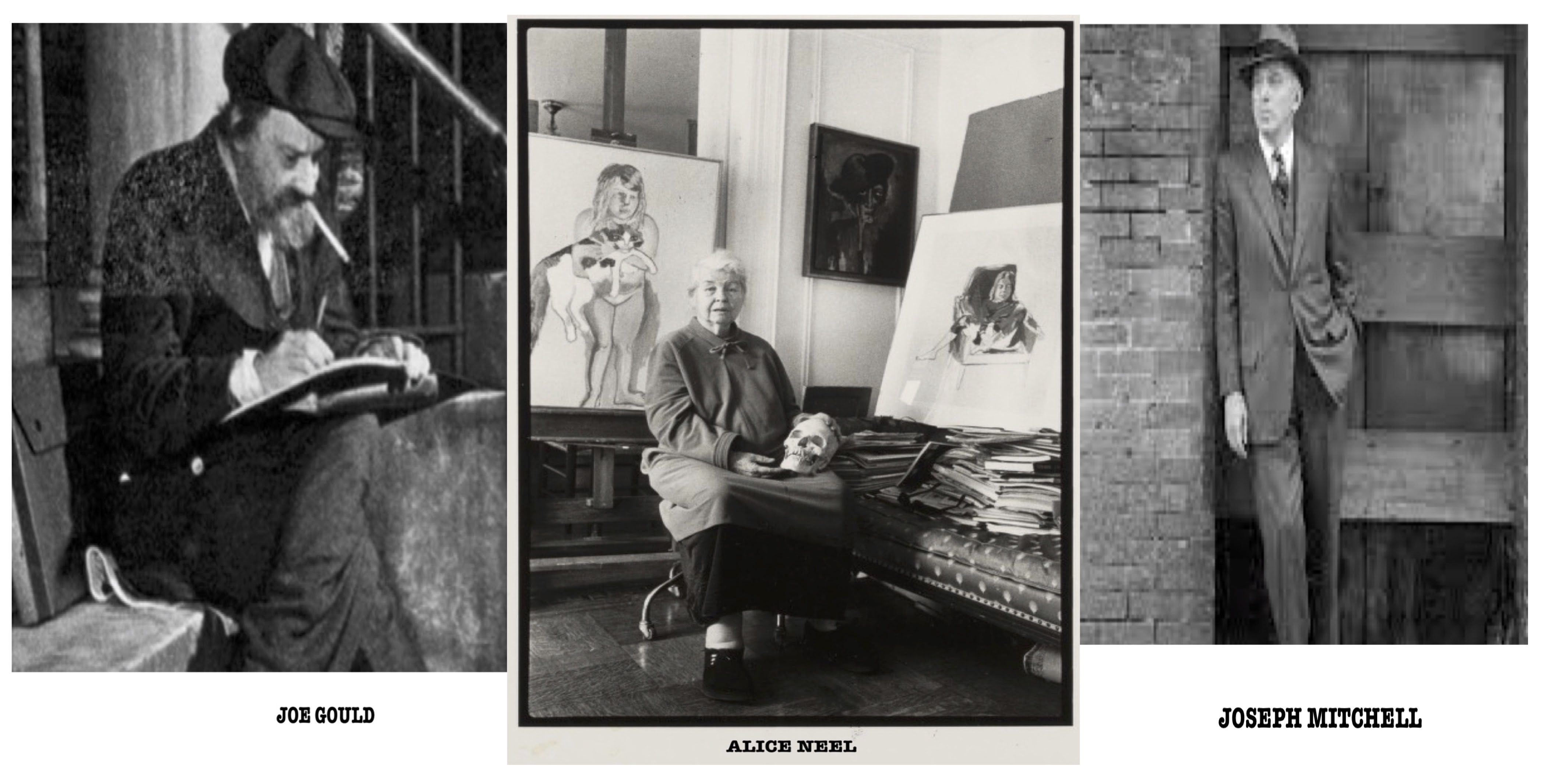 The second
Portrait Play
,
33 & 1/3 CORNELIA STREET
dramatizes the fateful events that forever bonded the legacies of Bohemian Greenwich Village legends, Joe Gould, proto-Beat poet and controversial oral history figure, and Joseph Mitchell, renowned writer for
The New Yorker Magazine
, through the powerful vortex of revered painter Alice Neel's groundbreaking portrait of Gould.
Finally, I have also activated my
Instagram
account. If you'd also like to be in touch there, my "handle" is
alvin.eng8
2020 NYSCA/NYFA Artist Fellowship: Nonfiction Literature!
Honored to be awarded a
2020 NYSCA/NYFA Artist Fellowship in Nonfiction Literature
. During these most challenging of times, I am incredibly moved and inspired by this affirmation of my memoir-in-progress––somedays titled
Our Laundry, Our Town
and other days
, The Last Emperor of Flushing's Final Communique.
I am forever grateful to the New York Foundation for the Arts for their long-term support. This is my third Artist Fellowship but first one in 24 years! (Previously awarded a 1996 Playwriting/Screenwriting Fellowship and a '91 Performance Art/Emergent Forms Fellowship.) Thank you, NYFA, for recognizing myself and other "mature artists" in this era of rampant ageism as well as lifting up so many artists­­––decade after decade in your ongoing essential work. The Arts matter in every era and at every stage and age of our individual and collective journeys. Keep on doing!
CHI CAN'T BREATHE (Reset! Video)
Now available on YouTube channel
CHI CAN'T BREATHE was written at the invitation of the RESET! Theatre Coalition Series for BIPOC playwrights to respond to the killing of George Floyd and related current events during the Summer of 2020. The monologue was powerfully performed by Antonyio Artis and magically directed by Tanya E. Taylor. The RESET! Theatre Coalition was formed by Braata Productions, Conch Shell Productions and Kumu Kahua Theatre. The Series consisted of live performances of the newly invited written works streamed on the three theatre's YouTube and Facebook Live pages during the Summer of 2020 Reckoning. CHI CAN'T BREATHE had its premiere performance in the RESET series on July 24, 2020. The work runs approximately 7 minutes.
Finally, as it does not look as if we will be sharing shows and stories in person anytime soon, hope you will consider subscribing to this
YouTube
channel. channel where Wendy and I will be sharing new work. Stay safe and resilient…VOTE!!!
CHI CAN'T BREATHE (Reset! Video)
Now available on YouTube channe
HERE COMES JOHNNY YEN AGAIN news:

SPECIAL GUEST PERFORMANCE
Friday, 9/25, from 8-9pm EST
Tell Me a Story, Annie: A City Lore Virtual Salon
With Annie Lanzillotto & Alvin Eng

GUEST SPEAKER- CENTER FOR ETHNIC STUDIES
BMCC / City University of New York
Tue., October 6 – Asian American Literature course
Hope everyone is staying safe and resilient during this time like no other. Just wanted to share some news regarding my new acoustic punk raconteur solo work-in-progress, HERE COMES JOHNNY YEN AGAIN (or How I Kicked Punk). Of course, the re-scheduled Dixon Place Workshop Residency performance has been cancelled.
But this Friday, September 25, from 8-9pm (EST), I am excited to be performing part of the show as a Special Guest in a City Lore Virtual Salon hosted by Annie Lanzillotto. The salon will include performances from Annie and myself, followed by a discussion on Asian American/Immigrant disenfranchisement––from the Chinese Exclusion Act to the spike of anti-Asian violence and immoral ICE raids during the Pandemic.
Joining the conversation will be actor/activist Ariel Estrada from Racism is a Virus and City Lore board member and Think! Chinatown president, Amy Chin.
RSVP to the FREE event: tellmeastoryannie.eventbrite.com
Click here for Facebook Event/Facebook Live page
Then on October 6, I am honored to discuss HERE COMES JOHNNY YEN AGAIN as a Guest Speaker in my colleague, Dr. Linta Varghese's, Asian American Literature course in BMCC/CUNY's Center for Ethnic Studies.
If you cannot join us on Friday, the piece will eventually be archived on my YouTube channel. As it looks like we will be sharing work on the streaming screen and not the stage for the foreseeable future, hope you will also consider subscribing to my YouTube channel.
New Video:
The Last Emperor of Flushing at 70 Mulberry St.

Restore Chen Dance Center & the Arts to 70 Mulberry St.
Now you can tear a building down, but you can't erase a memory…"
From "Open Letter (To a Landlord)" by Living Colour & Tracie Morris
Last October, Wendy and I had the honor of presenting a 10-minute excerpt from my memoir monologue, "The Last Emperor of Flushing," at Chen Dance Center in the historic 70 Mulberry St., building in Chinatown, NYC. This work humorously recalls Alvin's odd odyssey of growing up in one of Flushing's few Chinese families in the 1970s––that ran a Hand Laundry on Union St, no less!––to later becoming one of its few citizens who could not speak fluent Chinese. Flushing had become NYC's second Chinatown! (Eng is currently expanding this work into a prose memoir.) Please click here to see
The Last Emperor of Flushing at 70 Mulberry St.
As many of you know, 70 Mulberry St., a longtime artistic and spiritual hub of the Asian American/NYC Arts world and Chinatown, suffered a devastating fire on Lunar New Year's Eve, 2020. The building is being razed by the city right now. Please consider supporting efforts to demand that NYC officials recognize that Chen Dance Center and the Arts must have a home in the "new 70 Mulberry St." For more information, email Dian Dong at diandong@chendancecenter.org
New Video…
The performance was part of Chinatown Arts Week presented by Think!Chinatown. In many ways, this elegy to a pivotal turning point in NYC/Asian American history was a perfect fit on that storied Chen Dance Center stage…please join us in the fight to restore this home to the Arts in Chinatown, so we can once again create and celebrate our history and legacy at 70 Mulberry Street.
(Still photos courtesy Chen Dance Center & Think!Chinatown)
HERE COMES JOHNNY YEN AGAIN
…on Video from Dixon Place, NYC
Photo by Wrolf Courtney
Hope this finds everyone staying safe and engaged in all that moves you.
A quick update on the Dixon Place Workshop Residency of HERE COMES JOHNNY YEN AGAIN––an acoustic punk rock raconteur work written and performed by Alvin Eng and directed by Wendy Wasdahl.

Tonight (April 18) would have been the third and final performance. Of course, this has been cancelled (but rescheduled for Saturday, October 24, 2020!). To have the show go on tonight, and keep running in a different way, we are excited to share on YouTube, a two-camera video from the March 7th performance at Dixon Place. The video will be available indefinitely.
Please click here for HERE COMES JOHNNY YEN AGAIN…on Video!
This 25-minute video is from the second of three workshop performances. We were joined by Special Guests, Rick Ebihara and Perry Yung from the Slant Performance Group, for a "Tai Chi Music-Meditation Tribute to Lou Reed"…with Wendy also appearing!
The video was directed, filmed and edited by Wrolf Courtney with second camera by John Quincy Lee.
As this is a work-in-progress, we welcome any feedback, comments or questions.
Finally, we greatly appreciate everyone who worked on this video and performance––as well as everyone who joined us onstage and off in February and March at Dixon Place. Hope to see you again on October 24!
Until we can reconvene, take good care,
Alvin & Wendy
DIXON PLACE Presents 2020 Workshop Residency
HERE COMES JOHNNY YEN AGAIN (or How I Kicked Punk)
Dixon Place Presents a Three-Performance Workshop Residency a new solo work Written and Performed by Alvin Eng
Direction and Dramaturgy by Wendy Wasdahl
A solo acoustic punk rock raconteur work, Alvin Eng's 'HERE COMES JOHNNY YEN AGAIN (or How I Kicked Punk)' explores the impact of opium on the Chinese Diaspora as well as NYC's punk/counterculture through the dual prisms of William S. Burroughs' character, "Johnny Yen"––immortalized in Iggy Pop and David Bowie's "Lust For Life"––and Eng's own Grandfather's opium overdose on the streets of NYC's Chinatown.
(Card design by Ivy Arce, photo by Jim Goodin)
Acoustic Punk Rock Raconteur Saturday Nights @ 7:30pm -Free Admisssion
February 8, March 7, April 18, 2020
The Lounge at Dixon Place, 161-A Chrystie Street, New York City
(btw. Rivington & Delancey Streets) / 212.219.0736 / dixonplace.org
Fall 2019 Events follow… (full new website soon!)
THREE TREES A Staged Reading and Workshop
OCTOBER 7, OTTERBEIN UNIVERSITY, Westerville, Ohio
Otterbein University Department of Theatre & Dance will present a staged reading and host workshops around THREE TREES, a play that explores the complex relationship between philosopher Isaku Yanaihara and sculptor Alberto Giacometti. THREE TREES is the first work of Alvin Eng's Portrait Plays, a cycle of historical dramas that examines the parallels between portraiture, history and power as manifested in the convergence of different disciplines, eras and cultures. This play was presented Off-Broadway with the Pan Asian Repertory Theatre in NYC, as well as in staged readings with Baltimore Center Stage and The Moving Parts Theatre in Paris. https://www.otterbein.edu/theatre-performances/
THE MOURNING AFTER: A Play Reading and Discussion
City University of New York, Borough of Manhattan Community College
Tuesday, September 10, 7-8:30pm
On the Eve of the 18th Anniversary of 9/11, the BMCC Theatre Department presents The Mourning After, a one-act play written and directed by Professor Alvin Eng featuring Dominick Allen and Simone Zalusky. After the play reading, there will be a discussion and open mic: 9/11 themed poems and reflections of 2–3 minutes in length are welcomed!
The Mourning After was written on 9/11/03 aboard the A train as part of the "A Train Plays" 24-hour play festival. The play explores the then two-year aftermath of 9/11 through the prisms of class and perception as two strangers meet aboard a Queens-bound A-train. How far have we come as a country since then? Where do we need to go from here? RSVP to Facebook Event Page
Coming Soon:
THE LAST EMPEROR of FLUSHING: Our Laundry, Our Town, a memoir travelogue through Chinese America. The story begins growing up in a 1970s Chinese Hand Laundry in what was then one of the few immigrant Asian families in Flushing, Queens, to performing his one-man show, "The Last Emperor of Flushing," in English in a former People's Hall of the Cultural Revolution in his family's ancestral Guangdong province.